JUDICIAL COUNCIL INFORMATION
The Judicial Council is vested with the judicial authority of the Associated Students of the University of California. It adjudicates any and all disputes that arise under the ASUC Constitution and By-Laws as well as with any official actions of the ASUC's Executive Officials, Appointed Officials, and Senators. Additionally, the Judicial Council may direct action to remedy all such disputes, interpret and maintain custody of the ASUC's governing documents, and certify the results of the school-wide spring elections.
The Judicial Council is a non-partisan body of the ASUC.
Nine members of the University's student body sit on the Judicial Council. Six of the members come from the University's undergraduate student population; the remaining three are members of the University's graduate student population.
File a Petition with the Judicial Council
Do you believe a rule/regulation of the ASUC Constitution or By-laws has been violated or have a question of interpretation? Please file a petition with the ASUC Judicial Council.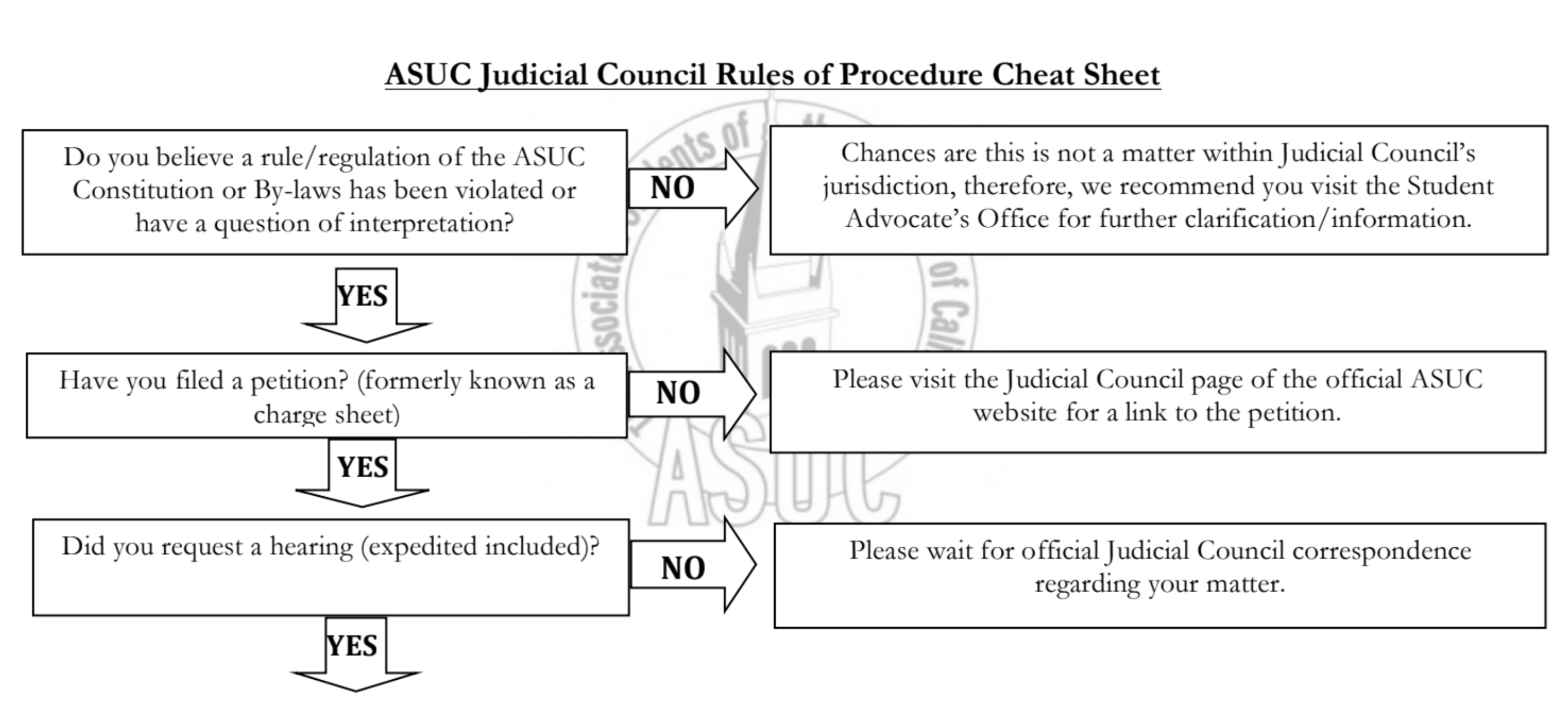 If the council accepts a case, the Spokesperson will be issued either a direct or summary judgment. The Spokesperson will be
assigned a Justice who will be a procedural consultant during the case. The hearing usually takes place in no less than 7 days
although expedited hearings can potentially take place in less than 7 days. The Judicial Council will inform the spokesperson of
his/her hearing date.
The person who files the petition does not have to be the designated spokesperson. Spokespersons are not officially
recognized until the hearing and if need be, can be changed simply by modifying one's petition.
From the time the case has been accepted up until the hearing date, the spokesperson is required to maintain communication
with the Council at all times. Failure to do so may result in issuance of a default judgment (please see JRP 4.16). The
spokesperson may pursue a settlement or pursue trial. In the case of a trial, the spokesperson is responsible for adequate
preparation, which can include drafting a list of witnesses, evidence, and briefs. Briefs are to be submitted within 48 hours of
the hearing date. Additionally, the Spokesperson must prepare to address the Council during the hearing (oral arguments,
witnesses, objections—refer to JRP 4.0 for further information).
Courteous behavior and truthful testimony is expected during a hearing. One may be asked to leave the proceedings if you
behave disrespectfully, defy an order from the Council, disparage a Justice, or knowingly provide false testimony (please see
JRP 4.16 for more information).
1. The Hearing
Each party is permitted one spokesperson to address the Council, examine witnesses, and raise objections.
a. Each party will present oral arguments, testimony of witnesses, and other evidence. [12 min. each]
b. Each party will cross-examine witnesses. [10 min. each]
c. Each party will make a closing statement. [5 minutes]
The Council may ask questions at any time during the hearing.
2. Judgment
Following the hearing, the Justices will deliberate behind closed doors. Judgment will result in one of the following: a
direct judgment which expresses the opinion of the Council or states the rights of the parties, a restraining order
which prevents an action from taking place, or a writ of mandamus which mandates an individual or organization to
fulfill their obligations.
3. Appeals
If there is significant new evidence, demonstration that prior evidence is false, or demonstration of any participant
committing perjury, you may appeal a case or request a rehearing in writing.
If you have further questions, please refer to the full length Judicial Rules and Procedures located at asuc.org
or contact the Chair of the Judicial Council at judicialchair@asuc.org.
[Revised 4/9/13, Chief Justice Suneeta Israni and Associate Justice Nicolette Roberts]
Judicial Council & Contact Information
2017-2018 JUDICIAL COUNCIL
---
Maureen Ochi Sides, Chair (She/Her/Hers)
3rd Year Undergraduate Student
Maureen is a junior from Oakland, California studying Political Science and minoring in History. She is serving as this year's Judicial Council Chairperson. Her studies and career interests focus on politics and foreign policy of the East Asia and Pacific region. She loves dogs (especially her Bernese Mountain Dog, Lucy), burritos, and the album "Coming Home" by Leon Bridges. Her favorite color is blue.
---
Amanda Allen (She/Her/Hers)
2nd Year Law Student
Amanda is a second-year law student from Louisville, Kentucky. This past summer Amanda worked at Public Advocates, a public interest law firm, focusing on education civil rights. Her pastimes include spending time with family, watching Netflix, improv comedy, barre classes, and following politics.
---
Christian Armstrong (He/Him/His)
2nd Year Undergraduate Student
Christian Armstrong is a sophomore studying Political Science and Public Policy. His passions include national and European politics, poetry (Maya Angelou, Rupi Kaur, etc.) and the law. His dream is to become either an appellate judge on the federal bench or a family judge. He loves cats and dogs and enjoys listening to music. His favorite artists include Sade, Tracy Chapman, and The Weeknd. He is a Pisces and loves the color blue.
---
Jonathan Fuentes (He/Him/His)
3rd Year Undergraduate Student
Jonathan Fuentes is a third year transfer student studying Political Science and History at the University of California, Berkeley. He is an aspiring law student with interest in United States political, legal, and historical research. His favorite color is gold.
---
Harmeet Kaur (She/Her/Hers)
4th Year Undergraduate Student
Harmeet Kaur is a fourth year transfer student studying Political Science from Fremont, California. She is passionate about serving her community, and the Law. Her interests also include dancing, baking, hiking, and exercising. She is a gemini, and loves reading about astrological signs. Her favorite color is blue.
---
José Marrero Rosado (He/Him/His)
1st Year Graduate Student
José Marrero Rosado, originally from Puerto Rico, is currently in his first year of doctoral studies in Anthropology. In 2017 he graduated from Syracuse University with a B.S. in Biochemistry and B.A. in Anthropology. Past research includes developmental and neural toxicology in aquatic vertebrates, and the biocultural understanding of lead poisoning in early urban contexts. Currently, he is studying Caribbean pre-columbian and historical periods through bioarchaeological research of human remains, with a focus on paleopathology and molecular anthropology. José likes to listen to The Script, Daughtry, and Lifehouse, and has and obsession with coffee and dogs. His favorite color is red.
---
Omar Rivera (He/Him/His)
4th Year Undergraduate Student
Omar is a senior studying Political Science and Legal Studies. He is originally from Guanajuato City, Mexico, and grew up in Whittier, California. He is employed as a research assistant in the Charles and Louise Travers Department of Political Science here at UC Berkeley studying the efficacy of torture and has served in the ASUC's Legal Office and on the Elections Council. His favorite band is Deftones, he is a Scorpio, and his favorite color is green.
---
Brian Tsui (He/Him/His)
3rd Year Undergraduate Student
Brian Tsui is a junior studying History and minoring in Public Policy from Pittsburgh, Pennsylvania. His academic interests lie in studying ancient Mediterranean political institutions, and he loves listening to Taylor Swift and Nick Jonas. His favorite color is green.
---
Judicial Clerks
Meanna Gray <graymeanna@berkeley.edu>
Kiran Girish <kiran.girish@berkeley.edu>