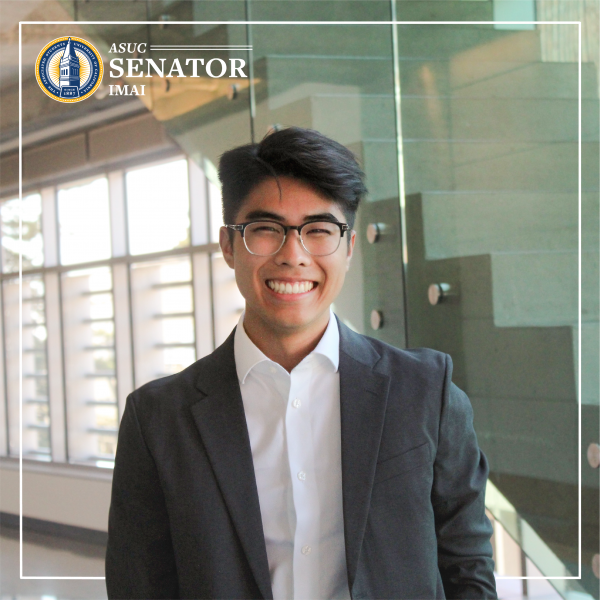 Senator, University and External Affairs Committee
Derek Imai
Derek Imai is a third year pursuing a BA in Public Health and a Minor in Public Policy. Joining the ASUC as a first-year, pre-medical student in the ASUC Offices of Nuha Khalfay and Vicente Roman, he soon realized his passion to work on public health initiatives and public service. His most proud accomplishment during that year was helping create the physical and mental health database that can be found at asuc.org/wellness. In his second year in the ASUC, he worked as the Chief of Staff of the Office of ASUC Senator Nikhil Harish. He worked hard to manage his Mental Health Department, Pre Health Department, and GBO Reform Department. On the side, he worked to improve the nutrition within the DIning Halls. Going into his third year in the ASUC, Senator Imai has been very excited to run four departments, which include: Physical and Mental Health Department, Pre Health Department, Environmental Health and Justice Department, and Nutrition Department. Each of these platforms came from his experience and passions to uplift communities through public health service.
Outside of the ASUC, Senator Imai has gained experience with health policy and advocacy on multiple tiers of government. Aside from uplifting health on a student-level, Senator Imai also serves as a Commissioner in the City of Berkeley Community Health Commission, worked as a legislative intern for the Office of California State Senator Nancy Skinner, worked as the health policy intern for the Association of Asian Pacific Community Health Organizations in Washington, D.C., and has worked as Fundraising Field Manager for Doctors Without Borders. His experience from a local to international-level has helped him understand how to make better health impacts.
Senator Imai is eager to accomplish these goals, and hopes that the deliverables that come out of his term positively affect the student body.
Campus Physical and Mental Health, Pre-Health Resources and Retention, Environmental Health and Justice, and Nutrition (Food Literacy), Pre-Health Community, AANHPI community, Environmental/Environmental Business Community, and Residential Life Residents
Read More on our Elected Officials
Read more on our Appointed Officials